---
Thinking in C# Print Version Delayed Until Fall 2003
For reasons beyond my control (believe me), Thinking in C# will not be available in print until the Fall of 2003. The good news is that this will give an opportunity to take the book to the highest possible level of …
more ...
---
Beautiful wind-walkers.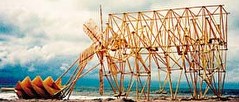 "Theo Jansen has developed staggeringly beautiful machines that walk when powered by gusts of wind. Created to be 'art that evolves', he's now working on a way to store the energy to provide power when there is no wind. He likens this to muscles." Link  via [Boing Boing …
more ...
---
Excellent illustrated version of Beowulf  but, in keeping with this apology from the Washington State University's Daily Evergreen, I feel I should be clear up front that Grendel was not really a muppet:
"The Daily Evergreen would like to sincerely apologize for an injustice served to the Filipino-American, Spanish-speaking, and …
more ...
---
IBM to buy Rational for \$2.1B
Given IBM's Linux and Java strategy and Rational's Microsoft-centric strategy, this is shocking. According to the press release, Rational will become a separate division and brand (rather than be subsumed by Websphere). However, one must assume that future Rational efforts will concentrate far …
more ...
---
Groovy underwater VR panoramas. Gorgeous underwater QTVR pano's. Navigate in a full circle, or vertically. Link via [Boing Boing Blog]
Is there cheap Windows software for creating this type of image?
more ...
---
---
This report from the Microsoft-Sun Java trial reads "Microsoft counters that Sun doesn't need the injunction because at least half the world's software developers already use Java." I can't find any direct reference to what was said, but I'd be very surprised to learn that Microsoft believes that half the …
more ...
---
---
Not all code breakage is bad
Russ feels that a slavish devotion to interfaces is over-engineering. Darren weighs in on the side of interfaces, but seems to mostly be advocating the naming convention. Cedric advocates *the consistent use of factories when programming with interfaces. *
I like interfaces a lot. Raised …
more ...
---