Greatest. Pillow. Ever.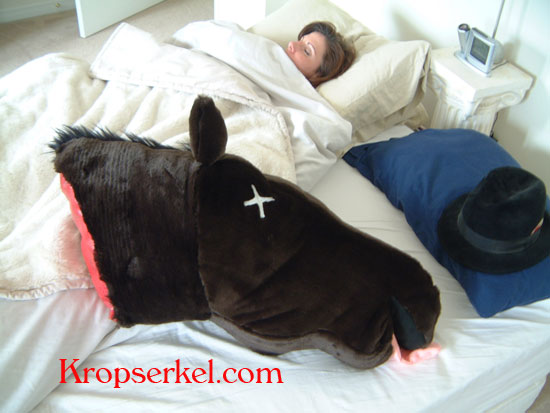 more ...
---
---
Rick Strom has a nice page showing how he used genetic programming to create a path-finding algorithm. This is real genetic programming, which differs from a genetic algorithm in that GP evolves an actual behavior tree of (potentially) arbitrary size, while a GA evolves the optimal parameters for a complex …
more ...
---
Colin Coller's "Copy Source as HTML" is, without a doubt, worth the download. It now supports Visual Studio 2005.
more ...
---
Interested in writing a domain-specific language for the CLR? Explore:
Microsoft DSL Toolkit CTP : This is a step towards Microsoft's Software Factories concept (which seems to be gaining buzz at the marketing level even though I'm not sure that the "factories" being released are actually aligned with the technical concept …
more ...
---
If it's Summer, it must be SIGGRAPH! All sorts of interesting things over at Microsoft Digital Image Suite 2006? ... anyway, other stuff they've shown, like automatic erasure of distracting objects, best shot selection, automatic compositing is all very impressive. Something to keep our hex-core processors humming in the year 2016 …
more ...
---
Reginal Braithwaite's favorite interview question of programmers is: Sketch out a software design for a game of Monopoly (via Coding Horror). I dunno'. I like it in terms of being open-ended and non-trivial, but it's a real quagmire. I mean, my first reaction was to drop back to OO 101 …
more ...
---
Snap! Ayende Rahein has shown how Active Record can be used to implement a rules engine. I'd had some thoughts about backward-chaining and LINQ lately as part of a forthcoming post, it's nice to see some groundwork laid.
BTW, this is via Sam Gentile, whose \<a href="http://www.knowing …
more ...
---
I've mentioned my wife's breast cancer on this blog a few times and now, officially, it's my wife's ex-breast cancer. We're back home after recuperating from her 3rd surgery (if you need to recuperate from a surgery and are looking for a place with a fun view, I highly …
more ...
---
In an earlier post, I was thoughtlessly harsh about the finalists in Microsoft's "Made in Express" contest. It's come to my attention that at least several of the contestants felt insulted by the post. To them I apologize: I wish them nothing but the best and envy them their enthusiasm …
more ...
---